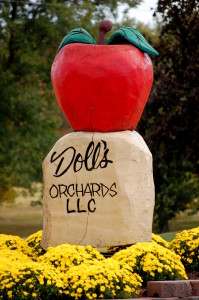 WELCOME to DOLL'S ORCHARDS, LLC
Adam Weber and his wife, Anna, established the first apple orchard on the property when they purchased the land on February 28, 1924.  He and his wife later sold the property to the Sisters of St. Francis on September 19, 1930.  The Sisters continued the orchard and used the fruits for their Motherhouse Convent located in Oldenburg.  At that time, mostly apples were grown in the orchard.  It was the mission of the Sisters to be self-sustaining and Anthony C. Doll, (George's father) was hired as caretaker of the orchard.  He also cared for the vegetable gardens and raised chickens for the Sisters of St. Francis. Anthony's father, J. George Doll, had an apple orchard in nearby Batesville, Indiana so Anthony brought knowledgeable experience to his new position working for the Sisters. 
In 1970, the Sisters of St. Francis sold the land, including the orchard, to the Doll family and a family partnership was established.  At that time, the orchard was showing signs of decline.  Trees were replanted and improvements made for retail sales.  Several years after the death of Anthony C. Doll, the partnership was dissolved and the orchard was divested to the partnership's members.  George and Patty Doll took title to the orchard laying East along Tony Road and they turned their interests to a wholesale operation. 
So, George and Patty Doll, Doll's Orchards, LLC, have replanted their section of the orchard with popular varieties such as Gingergold, Gala, Jonagold, Jonathon, Empire, Red Delicious, Yellow Delicious, Honeycrisp, Mutsu, Valstar, Cortland, McIntosh, Winesap (two varieties), Yellow Supreme, Chesapeake, Northern Spy, Anoka, Valstar and Braeburn.  Peach trees were also planted and both yellow and white peaches are available.  Thornless blackberries have been added to the production. Wholesale sales are an integral part of the operation.  Farmers' Markets are also important to the overall sales plan.
Doll's Orchards, LLC produce fruit by conventional growing methods.  As caretakers of the soil, good land management practices are of the  utmost importance.  Proper fertilization, tree pruning, minimal use of chemicals and staying abreast of agricultural advances are viewed as their responsibilities as caretakers of the orchard.  Most of the labor is done by family members but during the busy harvest, several local individuals help in the labor intensive job of picking the fruit. All fruit is hand picked and washed before going to market.
You may say, George has been in the orchard business for his entire life.  He and his sons follow in the footsteps of his grandfather and father and continue the "Doll Family Tradition."  Patty, however, became involved in apple production when she and George were married over forty years ago.  No one ever said, "Love, Honor, and Grow Apples," but indeed that is what it has become. 
As owners of Doll's Orchards, LLC, George and Patty see their role as delivering quality produce, in a timely manner, at competitive prices, to their customers.  This policy allows their customers to meet individual market demands, resulting in added profit margins.  They invite you to view their produce at local Farmers' Markets, some area festivals and their Tony Road sales location just outside of Oldenburg, Indiana. The Doll family business continues to "grow" for you!