The orchards are pruned and all spruced up, ready for the arrival of the warmer temperatures that announce the arrival of Spring.  There is nothing more beautiful than  azure blue skies, warm southwestern breezes and a sun-filled day highlighting  the first blooms of the fruit trees.  Yes, Spring has finally arrived at the orchards and endowed us with breathtaking beauty.  We have bud cluster in the apple trees while most of the peach trees are displaying their full bloom.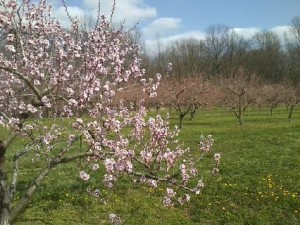 Peaches are usually the first trees that we have to bloom and it is always a magnificent sight to behold their various shades of pink.  We have different varieties of peaches in the orchard. Each variety displays a slightly different hue when it blooms. Our orchard is planted so these varieties ripen at different times making an extended harvest season.  Depending on the bloom period, our harvest begins the middle of July and will extend to the last week of August.  We have  well known varieties such as Red Haven, Madison, Contender and Reliance but have also experimented with other less known varieties that have proven to be very well liked by our customers, such as Canadian Harmony, Harcrest, Harold's Beauty and Flaming Fury.  Each variety has its own characteristic.  Red Haven and Madison  have better canning and freezing capabilities and give better results in pies and pastries. Harold's Beauty makes a beautiful peach preserves while Canadian Harmony is great to eat right out of hand, no sugar needed.  Harcrest and Flaming Fury do seem to have a longer shelf life in storage.  Besides these yellow peach varieties we also have white peaches.  White peaches are tastier to eat fresh but do not have the storage life that a yellow peach does.  However, after some customers have tasted a white peach, there is no going back to any other variety.  Again, all a matter of personal preference.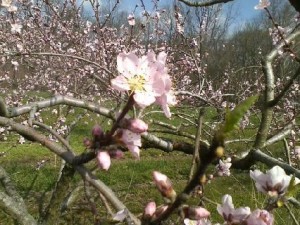 Customers will ask what is my personal preference.  Well, it seems I like them all.  Each variety has its own unique flavor and when I am picking peaches I really can't say I find a "bad" peach.  I have been known to sample quite a few during harvest making the other pickers wonder if I put anything in the hampers.  The picker is also the taster so how could you ask for a better job than that?