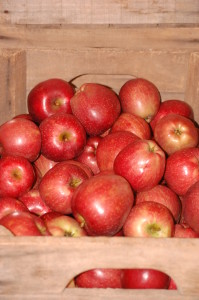 Harvest has begun in earnest here at the orchard.  This past week we have finished picking the Gingergold apples and now on to the Gala.  Ripening has slowed somewhat but the predicted higher temperatures this week will probably change all that.  We have started selling at the local Farmers' Markets and that is always a highlight of the week, seeing old customers and meeting new ones.  Besides making the actual sale, it is good to catch up on the lives of our customers and their families.
This week at market we will be introducing the Gala apple.  If there could only be one apple variety in an orchard, my choice would be the Gala.  This apple is a true favorite by customers with very few not liking its eating characteristics.  It is sweet, juicy and cosmetically attractive.  Besides eating out of hand, the Gala is excellent for smoothies, juicing, and believe it or not, it does make a good cobbler and pie.  While it is not classified as a "cooking" apple,  many of my customers use it quite often for that purpose.  They like it because it is an apple that the slice does not break apart and become "saucey."  I am not particularly fond of it in sauce, but it does ok.   My preference for sauce is an apple with tartness to it and the Gala is sweet.  Never-the-less, the Gala has an advantage if you are looking for a variety that can produce dishes without the use of a lot of sugar.
Wherever you shop at the local Farmers'  Market, take the time to meet your growers.  Questions you may have about the choices of produce available are welcomed by all of us growers.  We do our best to bring good produce to the customers and their families.  We personally look forward to feedback because it helps us to develop our business.