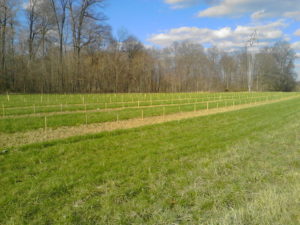 The past several weeks have been spent "maintaining" the orchards.  The fruit continues its development and with ample rainfall the apples are peaches are increasing in size.  Rainfall has been more than "ample" but after suffering through a drought several years ago, I have learned to not complain about the rain.  The trees are finally recouping from the devastation of that drought, not only the fruit trees in the orchard but the woodlands as well.
We have undertaken a new venture this spring and have planted a new orchard which we hope to make a "pick your own."   Our goal in planting this orchard was to enable consumers to experience picking their own fruit and teach children the process of growing fruit and harvesting it.  Children need to learn where their fruit supply comes from and it's not the produce aisle of the local grocery store.  We have prioritized our time in this orchard the past weeks.  After planting the trees in April, we have cultivated the new trees several times.   The rains have really helped in setting the roots of the trees and their continued development looks very promising.  Trellising is our most recent project and this is being undertaken to stabilize and support the trees.  A dwarf rootstock was planted so the fruit will be accessible and easily picked.  More updates on this orchard as things develop.
Weed control is again a major issue in the main orchards.  The abundance of moisture has made controlling unwanted vegetation a true challenge.  Weed eaters are in use daily.  We are not huge advocates of harsh herbicides and manual labor is the only other alternative.  Not one of us likes to pick apples when the weeds are higher than the pickers.
Other than trying to control the weeds under and between the trees, we keep busy cutting the aisle ways with the mower.  The local fuel distributor is starting to call me a regular customer because cutting grass involves buying fuel and it has taken quite a bit of fuel these past weeks.
Peaches will be ready in about two weeks.  There are several varieties planted and once harvest is started the peaches will ripen until the end of August creating a month long ripening period.  This will be the first peach harvest in three years.  Customers rave about the peaches grown here.  One reason is that ours are picked when they are ripe.  Truly tree ripened, not picked green and left to ripen in storage.
Looking forward to seeing our good friends and customers at the markets in about two to three more weeks.