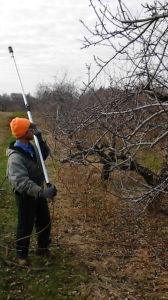 Ground Hog's Day has come and gone and according to the predictions we are anticipating another six weeks of winter.  We have had several periods of single digit temperatures but overall this winter has been more mild than most with warm temperatures.    Don't get me wrong, we enjoy warm winter temperatures like everyone else but as an orchardist we  prefer extended periods of cold weather so the fruit trees remain dormant.  It is much too early for bud swell especially in the peaches.
Our area has also been experiencing an excessive amount of rainfall this year.   This rain has truly helped replenish the water table.  It is certainly beneficial to start the season with an adequate supply of water.  If we lack natural water supplies the only other option is irrigation and at this point we are unable to do that.  
We continue our pruning and will be doing so for the next several weeks.  While we prune and remove excessive limb growth, we also do visual assessments of the trees themselves.  The effects of the major drought of several years ago continue to be visible in the older trees.  We are noticing some fire blight damage from last season and again are dealing with rodent (mice) problems.  After we finish pruning the orchard, the aisle ways will be raked and later cleared by mulching the limbs with a flail mower.
The local Food and Growers' Association held their annual conference this past week.  It was encouraging to meet so many individuals who are interested in growing and preserving their own food.  Usually attendees will leave a conference such as this with new ideas and a true willingness to make changes in their eating habits.  Check your local farm extension service for the availability of these presentations in your area.  It would be worth your time and effort if you were able to participate as there is always something to learn and experience.